Insurance Coverage
Service provider: GreenShield Canada
Customer service: 1-888-711-1119
Web: https://student.greenshield.ca/main
Benefit Booklet 2021-2022 (Now Available)
Opt-in Online Platform 2021-2022 (**No longer Available for the 2021-2022 Coverage**)
Opt-out Online Platform 2021-2022 (Now Available)
Greenshield Online Account Instructions (PDF)
Greenshield Online Account Instructions (Video)
Insurance Card (To Print)
General claim submission form (To Print)
***************************************************
For Quebec Residents Only
Quebec Residents: Opt-out for prescription drug coverage 2021-2022
(NB: Please provide a copy of your health insurance card)
Québec residents: Opt-in form 2021-2022
Insurance card (for Québec residents)
Viator – Travel Insurance Information booklet Travel insurance claim form
***************************************************
UHIP – University Health Insurance Plan (UHIP) [for international students]
This benefit is managed by the International Office.
International Office Tabaret Hall, Room M386 550 Cumberland Street Ottawa, Ontario K1N 6N5 CANADA
Tel: +1 613 562 5847 Fax: +1 613 562 5100 Email: uointl@uOttawa.ca
***************************************************
The coverage period is from September 1 to August 31.
However, claims can only be submitted as of the end of October.
The GreenShield health and dental insurance plan includes coverage for professional health services, prescription drugs, dental care, eye examinations and glasses and travel insurance. This plan is provided to the GSAÉD's membership through the Canadian Federation of Students' National Student Health Network. Through negotiations with Canada's only not-for-profit insurance provider, Greenshield, the Canadian Federation of Students offers the most comprehensive set of benefits available through a campus health plan.
All full-time students starting in September are automatically covered under the plan. Part-time students and those starting in January can opt-in. Students can also pay a supplemental premium to cover their spouse or family.
If you wish to opt out of the health and/or dental insurance plan, the only way to do so is via your uoZone account. From there, click on Finances and jobs, choose Opt-out and provide the information requested by the insurance company. You must apply to opt out every school year that you do not want insurance coverage through the GSAÉD. You have to enter information regarding your comparable coverage with another insurance plan. A confirmation will be sent to you and a credit will be applied automatically to your uOttawa student account. Please note that the provincially administered health plans (OHIP, QHIP, and UHIP) do not constitute comparable coverage for the purposes of deregistration from the Greenshield group insurance offered by the GSAÉD.
Please note that if you receive a 100% financial credit from the University because you submitted your thesis or withdrew from all your courses before the Fall deadline to do so (September 28), you will also receive a refund for the insurance plan and will no longer be covered by it. This does not apply to the Winter session. Note, too, that while undergraduate students at the University of Ottawa are also covered by Greenshield Canada, they are covered under a different insurance policy. Graduate students should be sure that they are using the policy number 23785 and identification number starting with GSA.
For students who reside in Québec, please note these informations:
Q – Can I have both insurances; RAMQ and GSAÉD (Greenshield Insurance)?
A- Yes, but the RAMQ insurance is the primary insurance, and the Green Shield Canada insurance is the secondary. Therefore, all reimbursement requests must first be sent to RAMQ, and then sent to Green Shield Canada.
Q – May I opt out of my RAMQ medication insurance coverage?
A – The Quebec government does not consider the Graduate Student Association of the University of Ottawa to be a "professional organization", therefore, they do not allow students who reside in Quebec to opt out of the RAMQ medication insurance.
Please note that you do have the option of opting out of the GSAÉD Health coverage at the beginning of the fall semester. However, be advised that if you do so, you will lose the other coverage offered under the GSAÉD health plan such as paramedical services, vision care and travel insurance
***************************************************
Travel Insurance
A summary of your travel insurance benefits can be found in the Travel Insurance Booklet. Here is your Travel Insurance Card.
For assistance with a travel insurance claim, for coverage inquiries, or for travel confirmation letters, please contact Global Excel Management Inc., the company appointed by the Insurer to provide medical assistance and claims services under the policy, directly at toll free 1.866.870.1898 or 819.566.1898.
Note that the Graduate Students Association is not able to sign a document for proof of travel insurance. To obtain such a letter, you may contact the insurance brokerage at least two weeks before you require it by writing to NAT.studentinquiries@hubinternational.com.
To extend your coverage beyond the coverage period shown below, please contact RSA Travel Insurance Inc. at toll free 1.877.562.5412 or 819.562.5412.
While travelling, please ensure to carry the Medical Assistance card provided to you on the RSA Travel Insurance Inc.'s website.
Mental Health Support
Please visit the Mental Health Page in the link below.
Academic Project Funds (Individual)
If you participate in conferences as a graduate student, you may be eligible for a GSAÉD Academic Project Fund (APF).
How to apply for the GSAÉD APF:
Click here to download the application form
Only one APF application is permitted for Master's-level students, and only two applications are permitted for doctoral-level students. Only registered students may apply. Read the Supporting documents checklist located below. Download, complete and print the APF application form. If you are unable to fill the application form on your computer, feel free to print it and fill it out by hand. During COVID19 lockdowns please email us your application at info@gsaed.ca.
Important: Note that some sections of the form are protected, and therefore cannot be modified. If the file opens in read-only format and you are unable to fill the form, please save the file under a different name and re-open it. You have to write your name in the exact way in which it is registered at the University of Ottawa. Look for your name on the U of O directory when in doubt. Bring to the GSAÉD reception, second floor of the Grad House (601 Cumberland) the form along with your supporting documents (see checklist below). Identify your documents with your student number. This will be used to track your application. Please make sure to include all the necessary documents with your application, otherwise it will not be processed. Financial contributions are provided by cheque. If you require the cheque to be mailed to you, please include a self-addressed envelope with a stamp along with your supporting documents. Otherwise, APF cheques will be available for pick up at the GSAÉD reception, second floor of the Grad House (601 Cumberland).
Supporting documents checklist: No refund will be issued without receipts. Please write your student number on all provided documents.
• A signed personal letter stating various sources of funding including the location of the academic project.
• A signed letter from your department and/or supervisor stating departmental contribution (at least $100).
• If you were refused, provide GSAÉD with the refusal letter. If you are ineligible, please mention it in your personal letter (see point 2).
• A proof of your academic project. For conference presentations, this may include an official pamphlet – or page of pamphlet – with your name underlined or highlighted. If you are attending a conference, you must provide a proof of attendance (e.g. registration receipt). For any other type of academic project, a letter from your supervisor (or professor) stating the project's relevance must be submitted. These documents must include the number of nights you will be outside Ottawa for the purpose of the academic project.
• Receipts or photocopies of receipts proving your expenses incurred during your academic project (e.g. accommodation receipts, meals receipts, etc. – please note that alcohol will not be reimbursed). Note that the expense limit is set at $100 per day, for a maximum of four days.
• A copy – both sides – of your University of Ottawa student ID.
Deadlines for individual APF application:
November 1: For academic projects done between August 1 and October 31
February 1: for academic projects done between November 1 and January 31
May 1: for academic projects done between February 1 and April 30
August 1: for academic projects done between May 1 and July 31
Academic Project Funds (Group)
If your association organises academic events and they are sponsored by your institute, school or department.
Academic events such as conferences, which are organized on campus by students and sponsored by a department, may receive an APF grant up to $500 in size. Fill in the form that you can download below and return it to the GSAÉD office. Note that applications must be submitted prior to the conference date.
June 1 for conferences between May 1 and August 31October 1 for conferences between September 1 and December 31February 1 for conferences between January 1 and April 30
Please fill out the Academic Group Project Fund Application Form and send it to info@gsaed.ca
Some events may also be eligible for funds from CUPE 2626 (if they are organized by and for the benefit of CUPE members).
The GSAÉD's emergency grants are meant to assist graduate students registered in a graduate studies program at the University of Ottawa who are in dire financial need due to unforeseen circumstances (i.e. illness, fire, theft, family emergency). The maximum amount one can receive through the emergency grant program is $250.
An e-grant does not need to be repaid because it is not a loan. However, if the student who received the grant can repay it, we strongly encourage her or him to do so in order to allow other students to receive an e-grant.
Breastfeeding Room
Whether they're students, staff, faculty or administration, parents on campus now have a private and secure location to breastfeed their children on campus thanks to the Graduate Students' Association's student-parent advocacy and work with the University of Ottawa since January 2014.
The nursing room is located in the University Center in room 230E on the second floor. The room is accessible by a code available at the GSAED office (or by contacting info@gsaed.ca), the Women's Resource Centre, the UOSU, and the Community Life office. The room is equipped with two comfortable chairs, a changing table, a microwave, a fridge, free diapers and children's toys. The room is also secured with a safety phone line that connects to Protection Services in case of an emergency.
The nursing room is accessible to anyone on campus who wishes to breastfeed or just spend some quiet time with their baby or toddler.
Business Cards
GSAÉD provides official uOttawa business cards to graduate students. Cards are offered in English and/or French. To place your order during the COVID lockdowns please contact us at info@gsaed.ca.
Orders require seven business days to process and we only accept credit card payments.
A minimum order of 100 cards, and costs vary based on order size:
100 cards: $ 19.91
200 cards: $ 21.65
250 cards: $ 22.72
300 cards: $ 24.07
400 cards: $ 26.08
500 cards: $ 28.80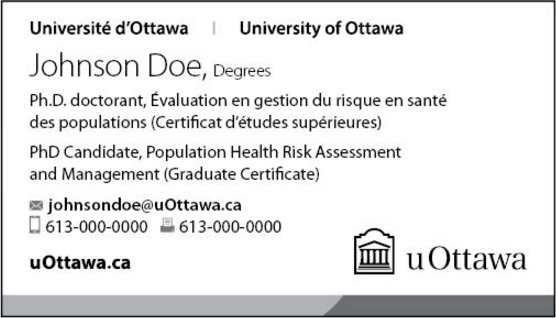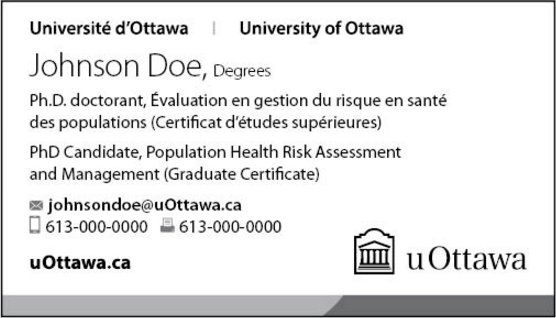 Ethical Purchasing
The Canadian Federation of Students-Services offers a number of programs and services in order to meet the unique needs of students and to help students' union save money. By combining students' unions' promotional material orders from across the country, we can achieve economies of scale. By purchasing in bulk, we can buy high-quality materials at substantially lower prices than any campus organisation could secure individually. By dealing directly with manufacturers, like the Single Mothers' Cooperative of El Salvador, the Canadian Federation of Students brings workers and purchasers closer together so that we know exactly how our materials are made.
Fair Trade and Union-Made
Through this service, students' unions like the GSAÉD directly impact the shape of the promotional materials industry. When we purchase union or cooperatively made materials, other companies feel obligated to offer products that are made under ethical conditions and respect workers' rights to organize.
Sweatshop-Free Campuses
Holding a sweatshop-free event or adopting a sweatshop-free purchasing policy is an easy way to reduce the impact on the environment and promote ethical labour standards. This service provides students' unions with union and cooperatively made materials to ensure that our campuses are sweat-free.
With certain minimum order sizes, the GSAÉD can purchase mugs, water bottles, pens, highlighters, lanyards, buttons, t-shirts, tote bags, and notebooks, with or without customised artwork.
If you would like to place an order on behalf of your departmental students' association, or for questions or inquiries about the ethical purchasing service, contact the student life & equityCommissioner at studentlife.equity@gsaed.ca
International Student Identity Card
The International Student Identity Card (ISIC) is a service offered by GSAÉD due to our membership in the Canadian Federation of Students. It identifies you as a student worldwide and offers you discounts in Canada and abroad. To obtain an ISIC card, visit the office of the GSAÉD in room GSD 204. During COVID19 lockdown periods, please contact us by email at info@gsaed.ca to obtain your card.
For more information on discounts and offers, please vite the ISIC Website in the link below.
Room Reservations
GSAÉD is pleased to offer graduate students the possibility to rent study rooms and the multi-purpose room in our newly constructed Grad House (601 Cumberland).
You may reserve at the front desk or by submitting a completed Grad House Event Space Application.
Multipurpose room 307
This multipurpose room is equipped with a projector and screen. It is perfect for a panel, a workshop or even a movie night. It seats 35 people, but the total capacity is 55. It is only available from 17:30 to 22:00 (exceptionally 23:00) during the week.
If you require the access to the multimedia tower (USB ports), be sure to get the e-card from Multimedia Services at least 48 hours before you require the room.
Note that a Special Occasions Permit is required if you are planning to sell or serve alcohol at your event in GSD 307. For information on how to obtain this permit, contact the Café Nostalgica Manager.
To inquire about room availability for GSD 307, please contact the Administration and Services Coordinator at info@gsaed.ca or at 613.562.5935.
Study Room 209
This study room has a capacity of eight people (with tables and chairs) or 13 people (chairs only). It contains an oval table and chairs. It is suited for committee meetings and group study.
To inquire about room availability for GSD 209, please contact the Administration and Services Coordinator at info@gsaed.ca or at 613.562.5935.
Grad Lounge
This room cannot be rented, but it always open for graduate students to use. You'll find comfortable couches and armchairs, tables, a microwave, and a kids' section.


Tax Filling
UFile.ca is one of Canada's leading online tax filing services. Despite the normal pricing for Ufile's service – starting at $15.95 per use – members of the Canadian Federation of Students, which includes us, can use the tax filing programme for free all year round.
Follow this link to access UFile.ca.
How to file a tax form
To file for free, members must:
Sign in to a new or existing UFile account for the current tax yearEnter tuition fees and months at school (must file T2202a)Local the "Special Offer" form in UFile's left hand navigationEnter the special offer code: CFS1981
(note: entering the code CFS1981 at check-out will not discount the tax file, the student must enter the code in the Special Offer section.)
Follow this link to access UFile.ca.


Weekend & Statutory Holidays Parking Pass
Please use the link below to obtain your uOttawa Parking Pass for weekends and statutory holidays. Note that this parking pass, once received, is not transferable to any other vehicle.
Parking Locations: https://tinyurl.com/y6x4a2zs