Job Postings | Offres d'emploi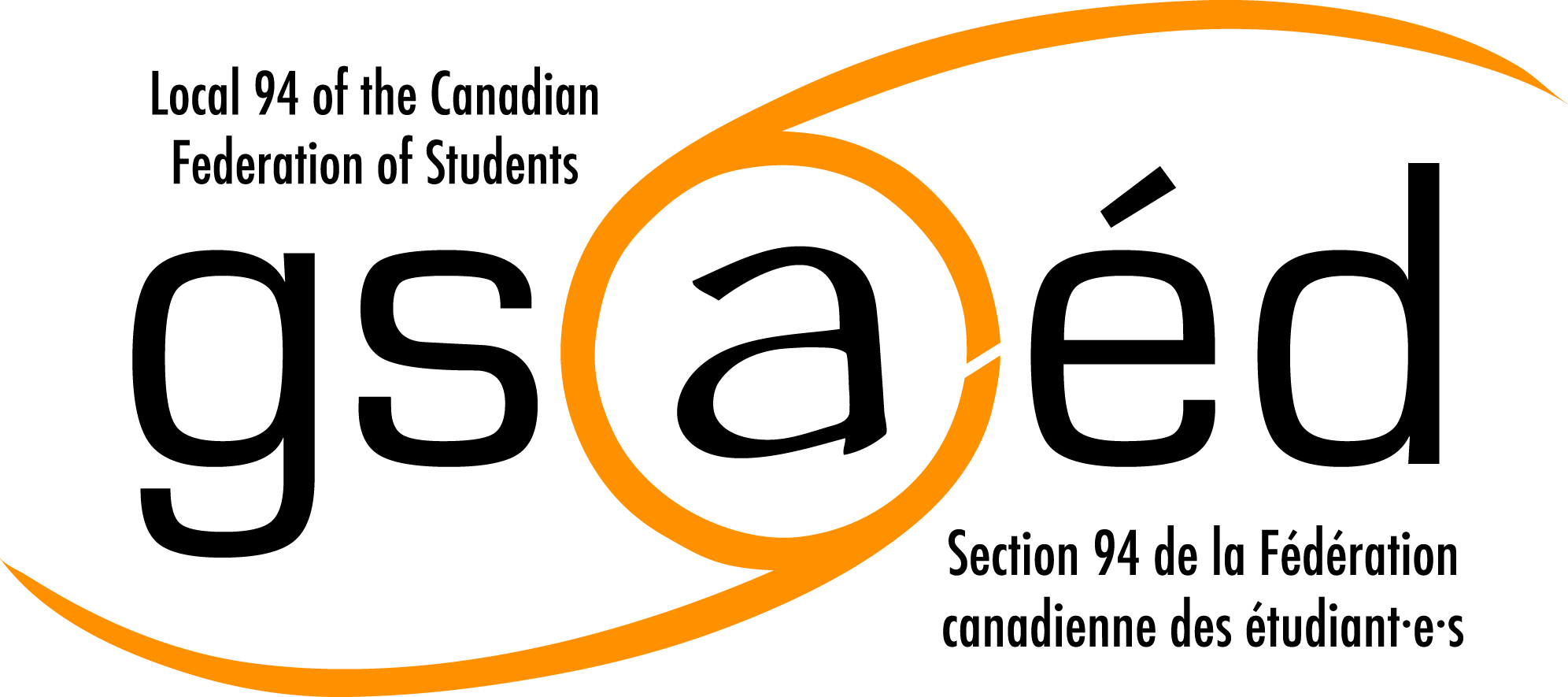 The Graduate Student's Association des étudiant.es diplômé.es (GSAÉD) has represented graduate students at the University of Ottawa since 1989. It currently represents approximately 6000 graduate student members from across all academic fields. GSAÉD is a service-based not-for-profit that offers its members a variety of benefits including an extended health and dental plan. We also enrich our members' graduate experience with many social and cultural activities.GSAÉD's mission is to represent, promote and defend the common interests of its members; promote and support the interest and activities of its federated graduate student associations in all departments and faculties; bring together its members to discuss and take democratic positions on issues affecting them; and represent its members at the administrative level of decision-making.We acknowledge that GSAÉD's offices sit on the unceded territory of the Algonquin people, who are the traditional guardians of this land. We pay respect to all Indigenous people in this region, from all nations across Canada, who call Ottawa home.
La Graduate Student's Association des étudiant.es diplômé.es (GSAÉD) représente les étudiants diplômés de l'Université d'Ottawa depuis 1989. Elle représente actuellement environ 6000 membres étudiants diplômés de tous les domaines universitaires. La GSAÉD est un organisme à but non lucratif qui offre à ses membres une variété d'avantages, dont un régime d'assurance-maladie complémentaire et un régime de soins dentaires. La mission de la GSAÉD est de représenter, de promouvoir et de défendre les intérêts communs de ses membres ; de promouvoir et de soutenir les intérêts et les activités de ses associations fédérées d'étudiants diplômés dans tous les départements et facultés ; de rassembler ses membres pour discuter et prendre des positions démocratiques sur les questions qui les touchent ; et de représenter ses membres au niveau administratif de la prise de décision.Nous reconnaissons que les bureaux de la GSAÉD sont situés sur le territoire non cédé des Algonquins, qui sont les gardiens traditionnels de cette terre. Nous respectons tous les peuples autochtones de cette région, de toutes les nations du Canada, qui vivent à Ottawa.