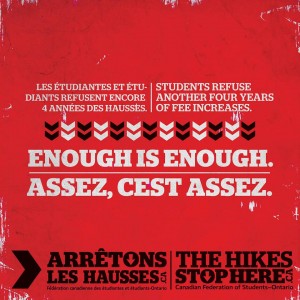 Tuition fees have skyrocketed as much as 80% since 2006 and Ontario students pay the highest fees in the country. Some Universities presently receive more than 50% of their budget through private funds (tuition fees) which begs the question of whether the Ontario Liberal Party intends to keep our education system public.
At uOttawa, in order to avoid student scrutiny the administration held a secret online vote to increase our fees by 5% for 2013-2014 and they have indicated that they intend to to do so every year for the next four years.
Join the fight to demand universal access to high-quality post-secondary education.